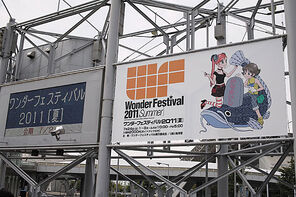 With Panty & Stocking with Garterbelt season 1 finished, news about the series comes slower and slower. At this point, its always nice to hear any news about it, even if its as little as new figurines being revealed at the Summer Wonder Festival 2011. Now, let's get on with this blog post, shall we? :)
From a few sources, including the Panty & Stocking official blog: Daten City Journal, new figurines were revealed at this year's Summer Wonder Festival that took place on July 24. Among the finished sample figurines, there were some still in the work-in-progress stage. Below in the gallery are some of the figurines.
Sources
Ad blocker interference detected!
Wikia is a free-to-use site that makes money from advertising. We have a modified experience for viewers using ad blockers

Wikia is not accessible if you've made further modifications. Remove the custom ad blocker rule(s) and the page will load as expected.