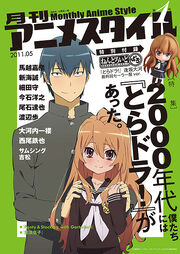 Panty & Stocking with Garterbelt in Manga Strip is a short manga special of the Panty & Stocking with Garterbelt series. It consists of four strips, which were released in the Monthly Anime Style (Issues 1 - 4) magazine, from May 25, 2011 to November 11, 2011.
The special was written and illustrated by the show's creator, Imaishi Hiroyuki, and belongs to the Seinen and Comedy genres.
Ad blocker interference detected!
Wikia is a free-to-use site that makes money from advertising. We have a modified experience for viewers using ad blockers

Wikia is not accessible if you've made further modifications. Remove the custom ad blocker rule(s) and the page will load as expected.