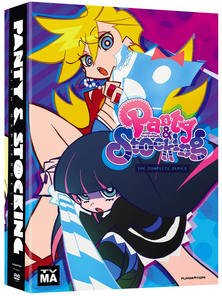 The Panty & Stocking with Garterbelt Series is currently released on a DVD Box Set in North America, licensed by FUNimation. The Box Set will be available on Blu-ray January 15, 2013.
Release Date: July 10, 2012
Language:
Publisher: FUNimation Entertainment
Episodes
Episodes
Extras
Trailers
Ghost Explosion Collection and Documentary
TV Promotional Video
Commercial Collections
Talk Live Animated at LOFT/PLUS ONE
Making of Lingerie Scene
Outtakes
U.S. Trailer
Textless Opening Song
Textless Ending Song
Ad blocker interference detected!
Wikia is a free-to-use site that makes money from advertising. We have a modified experience for viewers using ad blockers

Wikia is not accessible if you've made further modifications. Remove the custom ad blocker rule(s) and the page will load as expected.