Judgement, possibly God, rules in heaven and gives angels like Panty and Stocking their orders through holy men such as Garterbelt. She uses flashes of lightning to send scraps of paper with messages on them for their next assignment, and uses Chuck as a medium to send them through.
In "Bitch Girls: 2 Bitch", Panty and Stocking refer to Judgement as mother. She used her legs to push the Ghost and Corset back into Hell's Gate. She appears to wear white panties, stockings, and a garterbelt.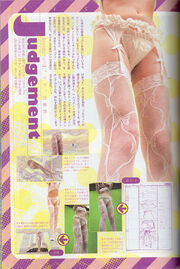 Ad blocker interference detected!
Wikia is a free-to-use site that makes money from advertising. We have a modified experience for viewers using ad blockers

Wikia is not accessible if you've made further modifications. Remove the custom ad blocker rule(s) and the page will load as expected.