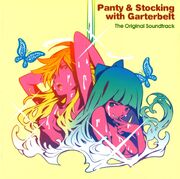 EPTM (Booty Bronx Remix) is an electronica song by Booty Bronx. EPTM is featured in Panty & Stocking with Garterbelt The Original Soundtrack.
EPTM is a remix of the song Everybody Plays the Music. The song was originally written by Hoshina Anniversary and performed by Hoshina Anniversary and Kodai of KinKieS.
In the series the song plays at the end of a number of episodes before the ending credits, usually after a Ghost has been destroyed. It is featured in the episodes: "Excretion Without Honor and Humanity", "Sex and the Daten City", "The Diet Syndrome", "High School Nudical", "Trans-homers", "The Stripping", "If the Angels Wore Swimsuits" and "Inner Brief".
Ad blocker interference detected!
Wikia is a free-to-use site that makes money from advertising. We have a modified experience for viewers using ad blockers

Wikia is not accessible if you've made further modifications. Remove the custom ad blocker rule(s) and the page will load as expected.